可追溯的全球质量服务-境外预检+溯源
Traceable Quality Service Worldwide-Overseas Pre-inspection+Traceabiltiy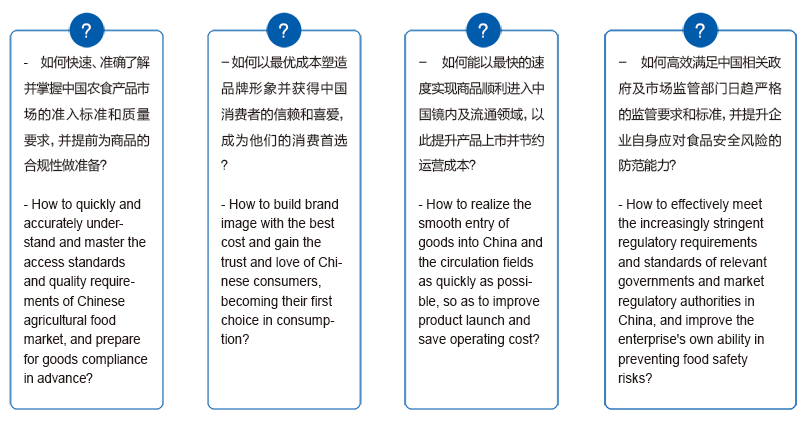 进口准入咨询 Import Access Consultation
针对希望进口到中国的产品,依据中国监管政策,通过中检集团的专业技术提供产品进口准入、合规性及口岸通关流程等相关政策及法规咨询服务,以确认此些产品是否符合相关准入条件及监管要求。
In accordance with China's regulatory policies, for products to be imported by China, CCIC will provide relevant policies and regulation consultation services(such as product import access, compliance and customs clearance procedures) through its expertise to confirm whether the products meet relevant entry requirements and regulatory requirements.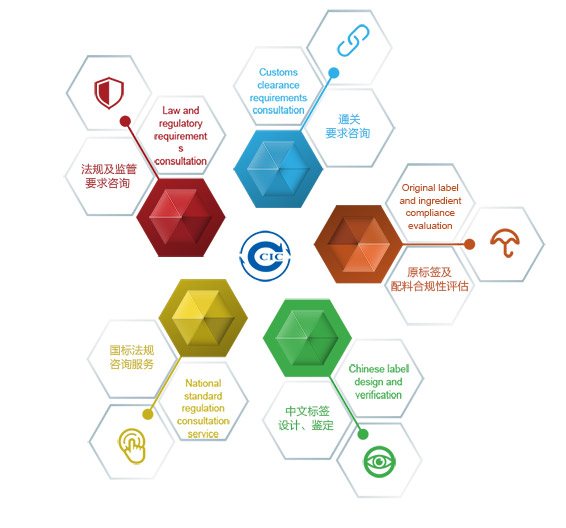 全程质量追溯 Full Process Quality Traceability
从境外生产源头到国内销售终端,通过建立进口商品的全程质量追溯体系,将进口商品的生产、存储、物流、贸易等各环节信息贯通、融合、共享,实现从农田到餐桌追溯全覆盖。根据监管要求及产品质量风险,为您定制质量追溯方案,包括以下内容:
From the source of overseas production to the domestic sales terminal, establish the full process quality traceability system of imported goods, connecting, integrating and sharing the information of production, storage, logistics, trade, etc, from farmland to table. Customize quality traceability solutions based on regulatory requirements and product quality risks, including:
境外检测 Overseas Inspection
依据中国相应的国家标准及规定,在进口商品的境外原产地或发运地,由专业技术人员通过产品抽检的方式,对产品的致病物、成分等各项指标进行检验检测,验证产品是否符合中国市场准入要求及相关技术标准。
According to corresponding national standards and regulations in China, in the overseas origin or place of shipment of imported goods, professional technicians will conduct sampling inspections on various indicators, including pathogenic substances and components, to verify whether the products meet the entry requirements and related technical standards of Chinese market.
境外生产企业实地验证(必选) On-site Inspection Of Overseas Production Enterprises (Required)
对进口商品生产企业(和/或基地)进行实地验证审核,确保其在企业资质、生产能力、设备配置、人员能力、工艺流程、包装仓储及质量控制等方面符合当地的法律法规和标准要求。
Conduct field inspection and verification of imported goods manufacturing enterprises (and/or bases) to ensure that they comply with local laws and regulations in terms of enterprise qualification, production capacity, equipment configuration, personnel capability, process flow, packaging and storage, as well as quality control.
产品监装监卸 Product Pre-shipment And Landing Inspection
中检工作人员现场监督产品的封箱打包及装运运输,确保符合中检溯源标准的批次产品,从出厂到物流全程无差错。
CCIC staff member supervises the on-site sealing and packaging of products, the loading and the shipment, to ensure that the batch products comply with CCIC Traceability standard and are error-free from factory to logistics.
全程温控记录 Full Process Temperature Control Record
对需进行温控运输的商品进行全程运输温控记录,批次产品到达境内后,自动读取运输全程中的温度记录,分析运输过程温度的变化,确保运输环境符合商品质量要求。
Record the full process temperature of goods that are subject to temperature control in shipment. After the batch products arrive in the country, the temperature records of the full process of transportation shall be automatically read, and the changes in temperature shall be analyzed to ensure the transportation environment meets the quality requirements.


与传统的进口商品到达口岸后,再进行现场查验、抽样检测、标签检验相比,中检集团"境外预检+溯源"服务为口岸检验工作提供了可信依据,加速货物通关,提升商品货架期,为优质海外商品提供品牌背书,帮助企业向中国消费者传递信任。
Compared with the on-site inspection, sampling inspection and label inspection of traditional imported goods after arrival, CCIC's "Overseas pre-inspection + traceability" service provides a credible basis for port inspection, accelerates goods clearance and prolongs the shelf life of goods, providing brand endorsements for high-quality overseas goods and helping enterprises improve trust-based relationship with Chinese consumers.

中检集团已通过"境外预检验+溯源"的模式,成功为新西兰的鲜奶、乌拉圭牛肉、智利车厘子、法国红酒、俄罗斯冰淇淋、澳大利亚橄榄油、北美水产品、东南亚水果、大米等出口中国创造价值,有效支持了监管部门提高监管效率,大大缩短了进口商品上市时间,同时也为消费者选择正品、安全、优质的海外商品提供指引。
Through the mode of "Overseas pre-inspection + traceability", CCIC has successfully created value for the import of New Zealand's fresh milk, Uruguayan beef, Chilean cherry, French wine, Russian ice cream, Australian olive oil, North American aquatic products, Southeast Asian fruit, rice, etc. , effectively helping regulatory authorities improve regulatory efficiency, greatly shortening the time to market for imported goods, and providing guidance for consumers to select genuine, safe and high-quality overseas goods.


溯源商品展示
Find Traceable Goods

官方微信
Official WeChat

官方微博
Official Weibo